Will Ride – not your average bike shop!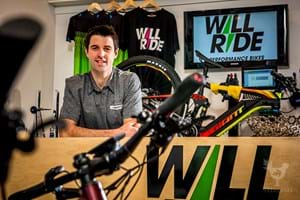 Will Ride – not your average bike shop
Former Mountain bike and Downhill World Cup racer Will Rischbieth is better placed than most to recognise that Stirling is at the centre of the Adelaide Hills region that is becoming a mecca for all riding disciplines. With a passion for mountain bikes that is truly infectious, Will has recently achieved his ambition of opening a business in Stirling to showcase the benefits of cycling for recreation, commuting, fitness and fun. Will Ride is not your average bike shop, so we were keen for a chat to find out more.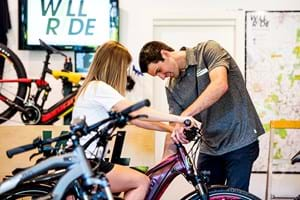 We hear you're quite a star on a mountain bike. Tell us about your experience.
I was lucky enough to race mountain bikes for Australia at both junior and senior levels and spent 4 years travelling and racing following the UCI World Cup circuit. Unfortunately, I was born with a stress fracture in my back, and in 2011 I had to give up racing as the high intensity of competition would flare it up and make it impossible to compete properly.
What then?
After that I was a diesel mechanic and I've spent the past few years working remotely fixing diesel generators in amazing places like the APY Lands in far north South Australia. My passion has always been on the bike though. When I was on the tour I would see all these people on e-bikes in places like the Swiss Alps. They would use them to commute to work in Geneva, and also on the weekends for some alpine trail riding. I knew there was an opportunity to replicate those experiences in the Adelaide Hills with Stirling as the hub.
So what is your plan for Will Ride?
My core vision is to create mountain bike connections in the Mt Lofty Ranges. We have the shop for sales, services and repairs, but our main aim is to share the mountain bike experience with others through bespoke tours. We are so spoilt for options with four mountain bike trail networks within a 20 minute ride, and even more if you're prepared to drive for 20 minutes. Plus, e-bikes really open up new opportunities for everyone to get involved. Although I have a racing background, I really enjoy coaching and empowering beginners with confidence to get back on the bike. There are so many accessible trails from Stirling that are great for beginners, they just need someone to show them where to go and tips to feel comfortable on the bike. E-Bikes are the best way to explore this territory and efficiently learn how to ride again.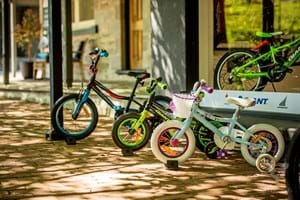 Tell us about these new e-bikes?
E-bikes are everywhere in Europe. They really make commuting realistic, as they remove the need for fitness and skill. I recently sold e-bikes to a couple who plan to use them to commute to work through Cleland where the bike tracks are now legal. They won't descend any quicker than a normal bike but they make the climb much easier, faster and more interesting. Even for more serious mountain bikers they open up new opportunities as they carry speed up the hills making climbing a different experience. It's like all the trails you knew on a regular bike are suddenly new again.
Do you have to purchase an e-bike?
You can of course, but you don't have to. We have a tour fleet of really good quality dual suspension bikes and my favourite part of the business is taking people out on tailored guided tours. I get so excited showcasing all the options in the Mt Lofty Ranges. Just last weekend we had a guided tour for a 60thbirthday with 10 people. We had a combination of men and women and we split into groups and did rides according to their skill level. Some of them hadn't been on a bike in 10 years, and they started quite apprehensive, but they really appreciated the coaching aspect and said they soon felt comfortable. They finished up at Anderson Hill Winery and had a great day.
When did your love of cycling begin?
I grew up in the hills and spent my childhood riding around places like Aldgate Quarry and hand digging my own jumps on spare bits of land around the place. I remember being totally gutted when a set of jumps my friends and I had worked on for months were flattened in the space of five minutes to 'make way for a development', which interestingly is still not there fifteen years later! Kids need places to ride, so it's fantastic to see a more encouraging environment for mountain bike riders and real efforts to create proper trails these days. Recently I helped to design and build the National Championships Downhill Track at Eagle Park, with a company called Trailscapes that is doing great work all around the place.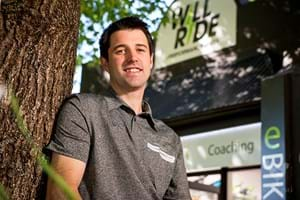 Have you had any help setting up Will Ride?
Yes, family and friends have been so supportive, especially my fiancée Emily who has been a massive help even though she's also been completing her nursing degree. I also have Roger Dutton working with me, and his attention to detail with servicing is incredible. He worked for years for BRM Motorsport so he's used to striving for perfection. I think it's that racing ethos we both share to 'always do better!'
Congratulations on your engagement. When are you getting married?
In January. It's a hills affair in my parents' garden in Aldgate.
What do you do when you're not riding something or fixing something?
I've recently bought a surfboard and I'm trying to learn how to surf. You'd think I'd be ok at it given so many years of balancing on a bike, but honestly I'm not very good!