John the Barber
John's Barber Shop recently celebrated its 50 year anniversary in main street Stirling. John Linke has spent an entire career getting to know his clients and hearing about their lives. We thought it was time to put John the Barber in the spotlight.
Where did you grow up?
In Aldgate.
What did your parents do?
Dad was a barber and he had a barber shop and deli in Aldgate. Mum ran the deli and I used to help out.
What made you decide to become a barber?
I wanted to be a plumber but I was a day too late for a local job opportunity so Mum encouraged me to help dad out. I did 3 years of training and then an apprenticeship with dad for 5 years. Then Mr Chardon told dad there was a space available in the front room of their house in the main street of Stirling, and that's when dad encouraged me to set up my own barber shop. That was 16th December 1964. Dad operated his barber shop in Aldgate until 1971.
Have you had any customers from the very beginning?
Yes, a fellow called Max has been coming to me since day one.
You've obviously seen some changes in hair styles over the decades. Which has been your favourite style?
Short back and sides never go out of style.
And your least favourite?
The 'Beatles' cut was pretty terrible, and I wasn't a big fan of the 70's styles with massive sideburns.
How has being a barber changed over the years?
It was the late 70's when ladies hairdressers started doing men's cuts. Some thought this would spell the end of the barber shop, but to be honest it just took the pressure off. I've always been a one man band and before then I'd have lines out the door, so it actually helped me out.
Does anyone still come in for a shave?
Rarely these days, but it used to be a regular occurrence.
How far and wide do your customers come from?
I have a 'regular' from England who has a cut with me every year whilst he's visiting family. Otherwise they come from all over the hills, Murray Bridge, Broken Hill and from town.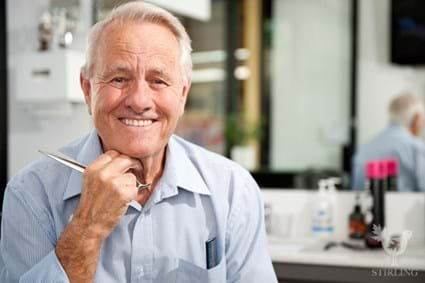 Are you good at keeping secrets?
Yes I keep confidences every day. I think some clients appreciate the chat more than the haircut. A bloke the other day said, "This is my first time here and you know all about me!"
What would a barber do if he went bald?
Carry on regardless. The key, of course, is to always keep it short.
How has Stirling changed over the years?
When I started it was really country, surrounded by market gardens and dairy, and Aldgate used to be the commercial centre. Tom the Grocer also moved into Stirling in 1964 and this started the trend of commercial growth, and now it's a thriving commercial centre for this part of the hills.
What has been the biggest change?
The planting of the main street liquidambers in the early 70's dramatically improved the streetscape and helped to green the place up. It's hard to believe it now, but there was a lot of bitumen before that! Plus, population growth really kicked in after the tunnel opened up.
After 50 year's working in the same place we assume you have a soft spot for Stirling. What do you like about it?
It's a lovely place to live and work. It's safe, friendly and incredibly beautiful. I had a well-travelled American customer list off all the amazing places he'd been and then tell me how remarkably beautiful Stirling is. I've never forgotten that comment.
What's your favourite part of the job?
Meeting people. I like to ask about their lives. This is the part I would miss too much if I stopped. The thought of retirement is terrifying!